Wales International Coastal Centre
The Wales International Coastal Centre (WICC) is a £10 million development funded by the Welsh Government, European Funding Body and Coastal Communities Fund. The development will see the transformation and redevelopment of Saundersfoot Harbour to incorporate high quality facilities and experiences to create an unique coastal visitor tourism attraction.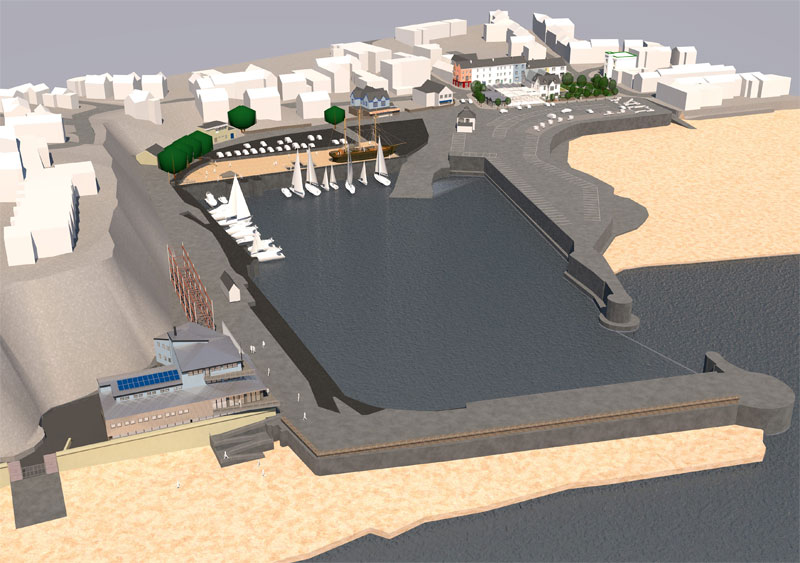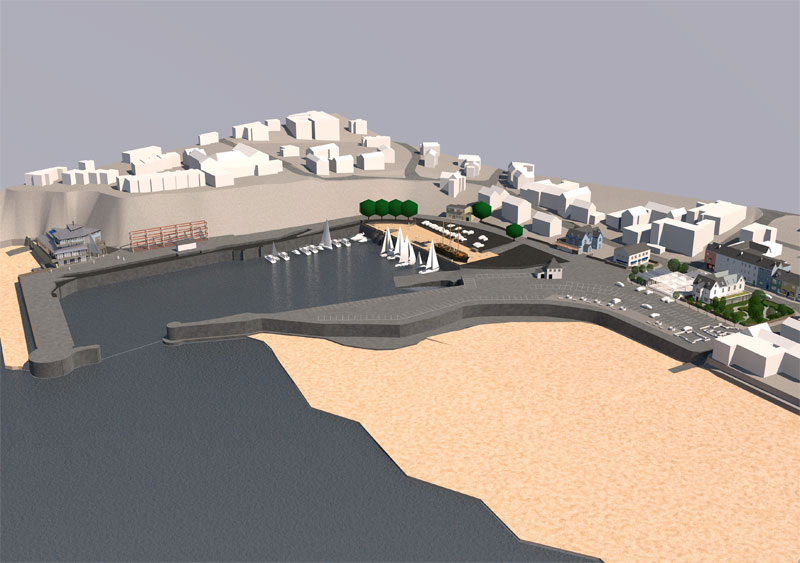 The first major developments of the plan to transform and redevelop Saundersfoot Harbour happened back in January 2015. First Minister Carwyn Jones visited the village and announced that a project to redevelop the marine facilities had been awarded. He said "The scheme will see the harbour, built 185 years ago, overhauled to improve access but also to ensure its long-term viability."
Phase one, most of which was completed in 2015, included visitor pontoons and moorings, an outer slipway and dry boat racking. This has already benefitted recreational harbour users by overcoming tidal problems through the building of a new slipway, which now allows launching at all states of tide. This has made a positive difference to the harbour workings and supports Visit Wales' intent to increase the use of our coastal waters for recreational use.
WALES INTERNATIONAL COASTAL CENTRE
Development Master Plan
Phase 1
This comprised of six elements that has dramatically increased water access times for boat users, in addition, it enables the harbour to extend its boat operation from 200 to 300+ boats with an overall ambition to extend the seasonal operation period and visitor attractions. These include:
There is a growing demand for visitor moorings for boats transiting the Bristol Channel, from the southerly approaches of Cornwall / Devon, and Ireland. It therefore, was Saundersfoot Harbour's Commissioners aim to establish a pontoon mooring facility that is afloat at all states of tides that offers a substantial facility for its current mooring holders and visiting boats to moor alongside.
Such a facility, has for the first time, enabled local and visiting boat owners to have an all-state of tide mooring within the Carmarthen Bay area, and with only a handful of such facilities within Wales.
The Harbour has installed 10 visitor swing moorings in 2015 and increase these, in 2016 to 15 and 2017 to 20, as demand has increased. All of which can be booked in advance for up to a two week period so holidaying families can have their boat permanently on water during their stay.
This facility has created a more relaxed approach by visiting boats as they do not need to worry about tides, allowing them to explore the land sites of Pembrokeshire in the morning if the weather is forecasted to brighten up during the afternoon.
Located at the old J&T site on the Eastern end of the harbour, the only such facility accessing Carmarthen Bay, giving uninterrupted access to the water line, therefore, increasing water access from the current 2 hours either side of tide to doubling the opportunity to 4 hours which has resulted in only a few hours each day that water access is limited
This facility has been able to give in harbour users and visitor boats the ability of planning their holiday around family needs, not just when the tide is available. Therefore, marketing Saundersfoot as a far more desirable location to stay.
The benefit to this system is that a boat is only on water when required enabling the harbour to increase its availability to at least 80 additional boat users with the added benefit to the owner of reducing the need to use antifouling paints and significantly lessen wear and tear.
Boats can be launched and recovered by the harbour team reducing the complexities of owning a boat creating a far more enjoyable experience for the entire family.
Such a facility has, for the first time, enabled harbour users and holidaying visitors to Pembrokeshire access to Carmarthen Bay via a storage system that maintains the quality of their vessel.
The Harbour has installed an access ramp onto a pontoon structure that offers safe access enabling less mobile persons to access leisure vessels and the excellent tripping vessels operated from the harbour.
Through decking over the old sluice without hampering its operation the harbour has created a valuable community open space that can support open-air events irrespective of the weather, providing a venue to support the current excellent out of season program of events staged by the Saundersfoot Chamber of Tourism.
This is an ideal venue to come and sit and relax or to enjoy a family picnic, with a program of events to be developed creating an atmospheric events diary of music/culture/food and arts.
Got a question?
Our friendly team at Saundersfoot Harbour will get back to as soon as possible with any queries you have about the new development or regarding the harbour facilities.